New Road Bike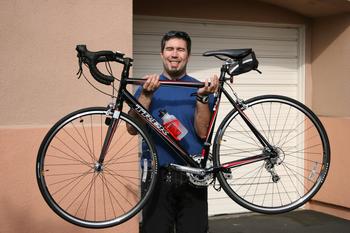 Over the weekend I finally pulled the trigger and got a road bike. I had been looking off and on since last year, but I decided this year was the year to pull the trigger and get on with it. I did a lot of research and pretty much settled on the Trek 1000/1.2. The 1000 is last year's Trek entry level road bike and the 1.2 is this year's Trek entry level road bike. They are basically the same thing. Over the years, the 1000 and now 1.2 has won several awards for being the best entry level road bike for the money. And when it came time for me to get a road bike I wanted something that was entry level but still pretty decent because I can always upgrade later if it is something that I really get into. Some of the reviews I read can be found here, here, and here. The next step was to actually go for a test ride. So after several delays I went to the Trek Bicycle Store of San Jose to do a test ride. The day I went (Thursday), the shop was really busy and it was 10 - 15 minutes before someone asked me if they could help me. By that time I had found the Trek 1.2 and had gotten a chance to check it out. I told them that I was looking for an entry level road bike, and that the 1.2 fit the bill, and I wanted to test ride it. Unfortunately the only trek 1.2 they had in my size had already been sold, so they told me to come back tomorrow and they would have one ready for me then. So the next day (Friday), I went back at the prescribed time (and I brought Timber with me) and did a test ride on two sizes, the 54 cm and 56 cm. The 56 cm fit better, and I took it on a nice ride around the block. It felt really smooth, comfortable, and effortless. I don't know how fast I got it to go, but it felt pretty fast compared to my mountain bike. The shifting was not the smoothest, but from what I read the more you pay for components the smoother your shifting should become. So overall I was pretty happy with the bike. After the test ride I told the guy that I would want to think about it a little bit and would be in touch. After talking to Timber about it for a little bit it pretty much came down to two choices. (1) buy it from the bike shop or (2) buy it online (ebay, craigslist, etc...). I did some research online, and found a few of last year's trek 1000's in my size, and assuming the postings were legit I would save a decent amount of money by buying it online. So here are the pros and cons of each approach:
Buying from a local bike shop -> get properly fitted (pro), knowledgable staff to help guide you to the right bike (pro), warranty (pro), someone you can turn to in case of problems (pro), a couple of free tune ups and inspections (pro), higher price than found online (con), supporting your local bike shop (priceless)
Buying online -> better price than the local bike shop (pro), you may end up getting the wrong size (con)
In the end I decided to buy it from the local bike shop because I wanted to support the local bike shop and build a relationship with them. So on Saturday morning I gave them a call and told them I wanted to buy the 56 cm Trek 1.2 and that I would be there later in the day to pick it up. So after taking care of a few other things first Timber and I went to pick it up in the early afternoon. This time the bike shop was especially busy but we got helped right away. After the guy grabbed my bike I walked around the shop picking out the accessories that I needed to take it for a ride that day. I got a bag to go under my seat, an extra tube, water bottle cage, water bottle, and a bike computer. The bike computer was nothing fancy, just something to tell me the time of day, ride time, distance, speed, average speed, high speed, etc... After I picked everything out paid for it they took my bike in the back and put everything on it for me. After they brought it back out we made a few adjustments and off I went, a happy customer.
After we got home I took a few pictures for insurance purposes and got ready to go on a ride with Timber. We did a 17 mile ride with a decent uphill section. Overall the bike felt effortless compared to my mountain bike on the same ride. I even beat Timber to the top of the hill by a little over a minute, and on the way back down the same hill I hit a top speed of 32 mph. Overall it was a very good first ride. Going forward I think it will take a little while to get used to the difference in handlebars and gears, but it shouldn't be too bad. I'll eventually get some better pedals and riding shoes and a few other accessories. But there is no hurry. I will also ride it to work when my schedule and the weather permit. It will be interesting to see how many miles I put on it up through the fall.

Posted by troutm8 at
12:03 AM